Introduction
A Brain-Computer Interface (BCI) establishes a direct communication pathway between the brain and an external device (computer, robot, etc.). It is the ultimate means of human-machine interaction.
Our laboratory mainly studies non-invasive BCIs, particularly, signal processing and machine learning approaches to implement accurate, secure and privacy-preserving BCIs.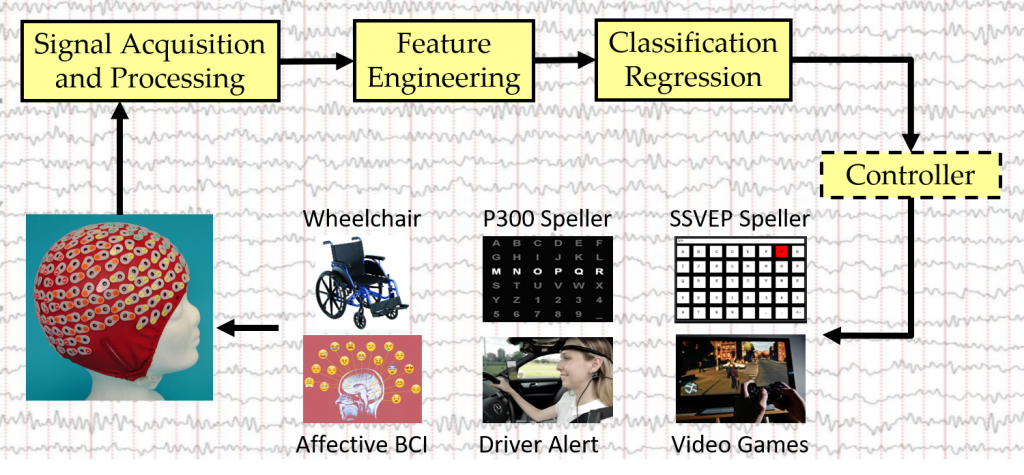 Machine learning is the core of artificial intelligence. Our laboratory mainly works on transfer learning, active learning, deep learning, ensemble learning, adversarial attacks, and fuzzy systems, and their applications in BCIs and smart healthcare.
On the Vulnerability of CNN Classifiers in EEG-Based BCIs
我们发现基于EEG的脑机接口系统中常用的神经网络模型并不鲁棒。通过构建极其微弱的扰动噪声,我们就可以操控脑机接口的输出。我们通过实验发现,攻击者在完全知道模型信息、知道部分信息、只能获得脑机接口输出这三种情况都有可能攻击成功。该研究强调了目前脑机接口中可能出现的安全隐患,需要该领域特别的关注。